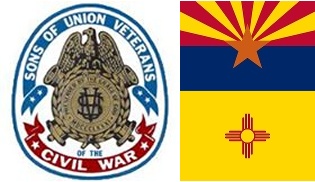 The Sons of Union Veterans of the Civil War (SUVCW) Department of the Southwest includes all of Arizona and New Mexico and was established on December 3, 2015. It consists of Picacho Peak Camp #1, General R.H.G. Minty Camp #2, and U.S. Grant Camp #3.
Membership in the SUVCW is open to all those who can prove descent from a member of the Union forces. Associate membership is open to anyone interested in the Civil War, regardless of lineage. If you are interested in becoming a member of the SUVCW, please visit and read the SUVCW National Headquarters Membership page to see if you meet membership eligibility.
For more information about membership please attend one of our meetings or contact us.