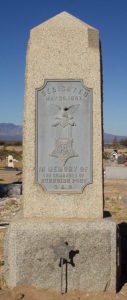 These Grand Army of the Republic (GAR) historical records are dedicated to the soldiers, sailors, and marines who served in the Army or Navy of the United States of America and defended the Union and its principles during the Civil War.
Department of Arizona, Grand Army of the Republic – An Early History & Copies of its Annual Encampment Proceedings 1888-1905 (69MB)
The information above is also available as separate, smaller-sized, files below to make it easier to download.
More information about Arizona's Union soldiers:
The Arizona Grand Army of the Republic (GAR) records listed above were compiled and written by David A. Swanson, Past Camp Commander, Picacho Peak Camp No. 1. The GAR video and the biographical records of Union soldiers that served in Arizona were collected by David R. Jackson, the Department of the Southwest's graves registration officer.